One of the pressing realities for a specialty fly shop is figuring out how to make the best flies possible as quickly as possible. To keep every fly the exact same and crank out 6 dozen flies in a few hours is not for the faint hearted. I am a little bit obnoxious about finishing an order as fast as possible - just ask my wife. I am also a little anal when it comes to maintaining quality with my flies. I want them to be as best as possible. It's another balancing act. Most times if I had to slide either way I would pick quality every day, but what I have been investing in has been ways to make large quantities with great quality as quickly as possible.
Essentially, how can I tie flies as perfect and as fast as possible?
There are eight tips I use to speed up the process that can help any level of fly tier.
Here they are:
1 - Get It Together.
I can't tell you how many times I went to start on an order, then realized I was missing a necessary ingredient. I stage all the materials on my desk in what order I will need them, and leave them all out on my desk. For some patterns I will go through the bags of materials and select the materials for all or for a dozen flies at a time.. This helps to make sure everything is consistent, and saves time for me rummaging through a bag looking for another piece of marabou every time I start a new fly.
Getting all your materials/ ingredients together also helps you stay on track with that one pattern, not lose things (as frequently) and saves time from you not having to get up and out of your seat every 5 minutes.
2 - Dress The Hooks
Once your materials are together, start dressing your hooks with the foundation materials. A few examples of foundation materials are, bead heads, lead, non-toxic wire, dumbbell eyes, rattles, etc. Anything that you can put on first, and set it down to move on.
There is a reason Henry Ford pushed for the assembly line system - it works. Essentially, what this looks like in fly tying is the following steps: place foundation materials, set it down, and repeat until every fly has foundation materials. Put on a foundational finished fly and move on to either finish the fly, or to the next hinge step (hinge steps will be discussed later).
An example of one fly that I tie in two stages is the Frenchie.
Dozens of Frenchies have been leaping off my vise the past few weeks. It's a relatively simple fly. You can finish one in 3 minutes or maybe even faster if you are speedy. But before I pick up the bobbin, I place the bead on every fly I plan on tying. Once I put the bead on, I drop it the foundational finished fly in a small container to keep it safe, and to keep all the dressed hooks in the same location.
I use these containers from Amazon to store my finished, or partially finished flies. They have loads of compartments, can fit small streamers, hold materials well, and are cheap. The only downside is shipping takes a while. I have lost count of how many of these boxes sit around my fly tying room, but you can never have enough storage!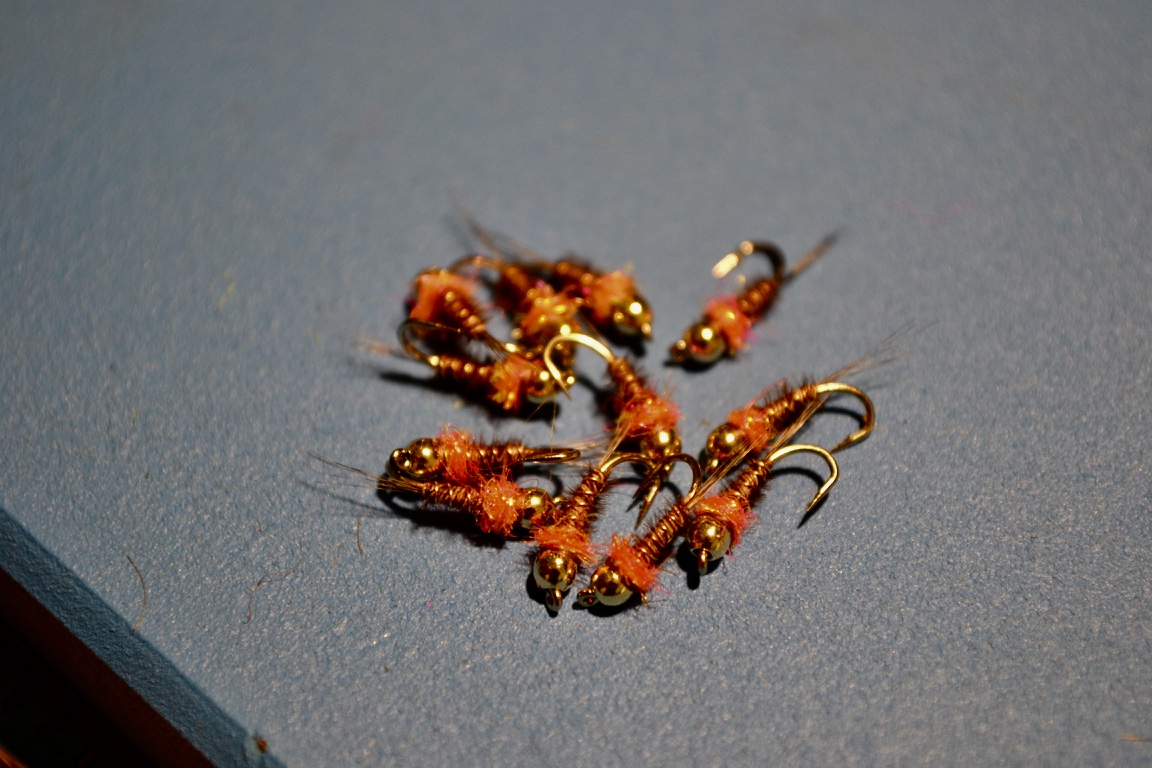 3 - Tie In Stages
Every fly pattern will stage differently. Put on the foundation on all your flies, then tie to the next hinge point, or just finish the fly. A hinge point is a step in the tying process where you can put the fly down and move onto another material that will make your fly tying faster.
Hinge points are more common in the following style flies: large patterns, lots of materials, using glue, or an articulation point. All of those have steps where it is faster to take the unfinished fly out of your vice, let it sit/dry until you have completed every fly up to that step.
Note, I am NOT telling you to change your hook out literally every time you put on a new material. After all, not every pattern needs to be tied in stages. I may not stage an Adams, a Hare's Ear Nymph, or a Pheasant Tail Nymph, but I would stage a Zoo Cougar, a Pharisee, or a Moto's Changer.
Learning when to stage something, and when to finish the fly is a learning process. For example, with a Moto's Changer I will get everything ready (step 1), tie the shank of the fly (step 2), glue the head (step 3 - hinge point) then set it down and move to the next shank. Once I am finished with all the shanks I tie them on to my point hook (step 4), glue them (step 5 - hinge), then set them down to dry. While the glue is drying on that fly I keep tying and gluing on the other flies. By the time I am finished with the shanks the first fly I glued will be dry, and I can finish putting on partridge feathers to finish off the fly!
Staging speeds up the process, and makes a fly that is as time consuming as a Moto's Changer finish a little bit quicker.
4 - Develop Muscle Memory
When you develop muscle memory in your tying, everything is faster. You won't have to think as much about little steps- you'll just do them. There are a few ways to do this:
1) Keep everything in the same place. Keep a trashcan on or near your desk, and never move it. Keep your whip finishing tool in the same place, keep your marabou on one side of the table and your pheasant tail in another place.
2) Tie more flies. If you are justing starting a new pattern, you will probably have to take more time learning the intricacies of that particular pattern. The only answer I can provide you with to speed up the muscle memory process is to tie more!
3) Keep a routine place and location for your supplies, materials, and tools. You can let your hands do the work putting excess fibers in the trash, grabbing dubbing, or whatever else. Some of this goes down to who you are, what your tying location looks like, and what materials you have. However, try to keep it as consistent as possible!
5 - Never Put Your Scissors Down
Keeping everything in the same place includes your scissors! There was nothing more uncomfortable (but helpful) for me when I made myself tie with scissors in my hand. The first few days it was terribly awkward. I didn't know a good way to position them. I poked myself in the face several times when I had an itch, and they constantly got in the way. However, scissors are one of the most touched items in fly tying. Always having to search for where you placed them last steals precious seconds or minutes. In contrast of that, keeping them in your hands makes tying noticeably faster, and removes the headache of misplaced scissors.
My method slowly transformed over time, but here it is. I take my scissors and place them on my the middle finger of my right hand. I then spin them around so the blades face towards my pinky on the backside of my hand. There they sleep. When I need them I simply take my thumb and rotate the scissors around with one hand, cut, and rotate them back. With this method I can cut things quickly and be back to tying in the blink of an eye!
Like I said, at first it was awkward, but now it feels like home.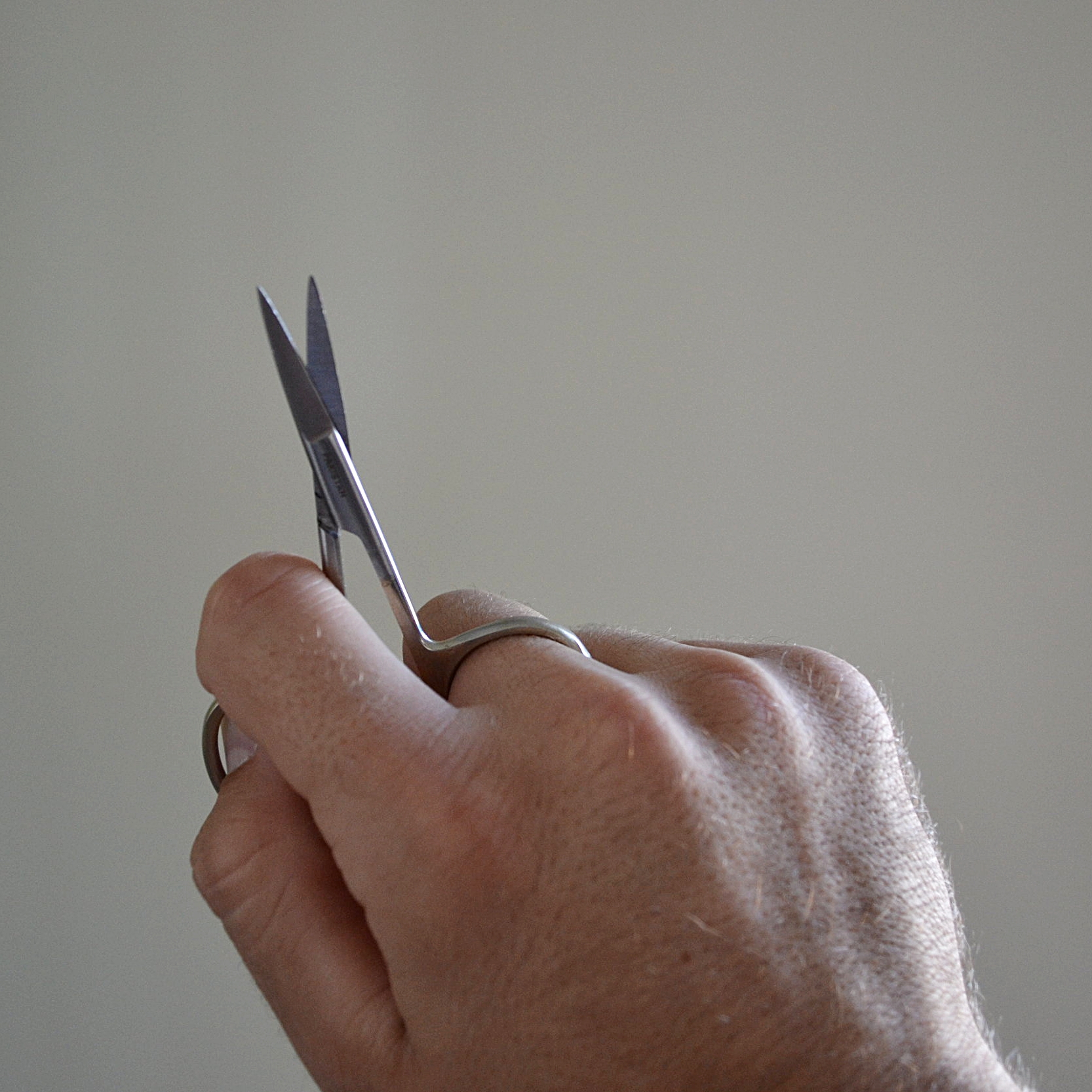 6 - Tie Extras
You finish all the flies, you inspect them and realize - you messed up. One of the flies is just not up to snuff with what you are trying to sell, give, or use. Frankly, it's just annoying. The first few times this happens it will take a extra time to crank out that final fly. You have to get out the bead heads again, find the wire, track down the all the other materials, etc. May not sound like much, but when you have another 8 dozen flies looming over your head, every second counts.
What I do now to counteract that is, I tie a few extra flies. If I have an order of a dozen I will tie 13 or 14. If all 13 are perfect then I will either just give them to the client with the extra and say, "Happy Birthday," or (more commonly) I will store it for another order.
Now this does depend on the amount of time it takes to make the fly. I don't generally do this with larger time consuming patterns like streamers or really involved dry flies. Rather, I just take more time and make every wrap count.
7 - Learn your Pattern
Spend time learning the in's and out's of the pattern you are trying to tie. This goes back to other articles I have written before about making every wrap count, but the point weaves it's way into every aspect of fly tying. If you do not know how to tie a pattern, or you are constantly guessing what to put on next you aren't going to make the fly very fast. Take your time learning the pattern. Figure out how many wraps it takes to properly secure the tail without building up too much bulk, figure out how many pheasant tail fibers you need to get a covered and slim profile in that Frenchie, or Pheasant Tail Nymph.
The examples are countless, but the point is overarching. If you do not understand your pattern, and if you do not take the time to learn what, where, and how you want everything put on that hook you won't be able to tie the flies very quickly.
8 - Use Quality Materials
I am a tying nerd. I like to look at the intricacies of materials, and I do not purchase materials if they don't fit my standards. The reason for this is that it's a waste of time to buy crappy materials. I would rather spend the extra 4 dollars, or even 10 to get materials that will consistently do what I want them to. If the material is abnormally brittle, is dirty, inconsistent, etc. I don't waste my time with it. With junky materials you end up spending more time searching for usable material, you toss a fair amount, which wastes time/money that I could use to tie other flies. It is always better to just save a little bit longer or splurge just a little bit to get the better material.
In conclusion, it's way too complicated to tie your own flies.
Just buy mine.
Only kidding, when it comes to tying flies in larger numbers, or just trying to increase your overall speed it should be known sometimes, tying just takes a while. If you are going to do things right then you have to invest. Oftentimes, the biggest investment will be time. I write this article not to encourage you to whip out flies as fast as possible, but to help shave off seconds and minutes so you can better utilize the time you have. Invest in the quality and eventually you will get faster.